Here we are. Exit false creamery, let's taste some real vegetable's yogurt, sour cream and butter !
How to ? As real ones : with microflora ! That's it that will give the nut's taste, as for animals butter. A mastered flora will always be a non-pathogenic flora, I invite you to choose an industrial one (EDIT!) 🙂
So, have a start wiyh yogurth. I've often read that it's not possible with nuts milks. Hey! Well, read here the contrary, it is possible and even much better ! Why? Simply because in vegetable preparations, it is time to put to curdle (tofu is a great product to do this), but never to ferment (yoghurt, fresh cheese, cream) or .. . to refine (cheese)!
Moreover regarding cheeses, I let you go find my other article (still in preparation, as the ripening time is long!), A little patience!
Vegetal/Vegan yogurth
Yogurt ingredients (and utensils):
Probiotic (industrial, check that it is not just animal milk …!)
Milk (here nuts)

A jar,

airtight
Steps:
Vegetal/Vegan minute sour cream
Add your coconut cream miso and the effect is quite convincing!
Vegetal/Vegan sour cream
Sour cream is manufactured the same way as yogurt, but will only use coconut milk (which is the richest in saturated fat).
Do not hesitate to mix the liquid if splits into water + cream during the fermentation phase (morning and evening for example).
Depending on your desire for a liquid or more firm cream, simply filter the result or remove part of the water which splitted from the cream in the fermentation phase.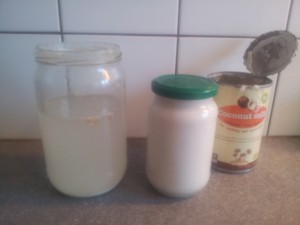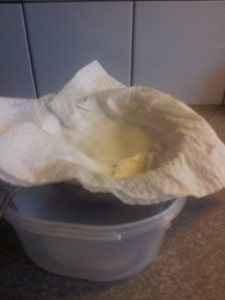 Filtered cream
White butter – vegetal/vegan
As for sour cream, coco milk is the only one I know that gives a good result ! For your information, only saturated fats are solid at ambiant temperature (butter, coco oil, palm oil).
Now I'm informing, just know that for your recipes, if you're using butter, you can replace it with oil : in fact, when you're melting butter, the "solid" quality is not used, only the taste! It's actually better for your health 🙂
Well, white butter: the steps are exactly those of the cream, and then the cream obtained is filtered and dried two days in a refrigerator.
Churning the butter is useless here. I already tried (with electric mixer) the result is simpler to filter, but I havn't seen any taste value. If you do not agree, give me how and why! Thank you!
Note 1: It is certainly possible to add grains of salt, but I confess not to be fond of it and do not want to try it…(but surely will increase its conservation)
Note 2: Treat yourself with your toasts or your radishes, butter does not keep for very long! 🙂